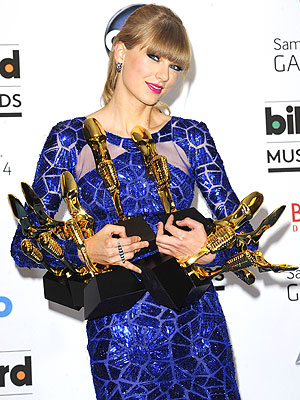 Taylor Swift is feeling 22 and she's feeling like a winner. A big winner!


The country cutie was the big winner of Sunday's Billboard Music Awards, taking home eight awards, including Top Artist. She even managed to poke a little fun at her oft-mentioned love life during an acceptance speech.


"You are the longest and best relationship I've ever had," she told her fans.


Throughout the show, Swift could be seen dancing along with Selena Gomez while singing along to several acts. That is, of course, when she wasn't taking the stage to sing her big song "22" or to accept her cache of awards.


"I feel so lucky that I have such a personal relationship with my fans," she told reporters following the wins. "I feel so lucky that they want to follow me on Twitter, even though I kinda just Tweet about my cat or Law & Order. It's been an amazing friendship and bond we've had over the last couple of years. I can't even really define it. I'm just lucky to have it."
View the original news article at: People.com